Tatler Review: Angels in America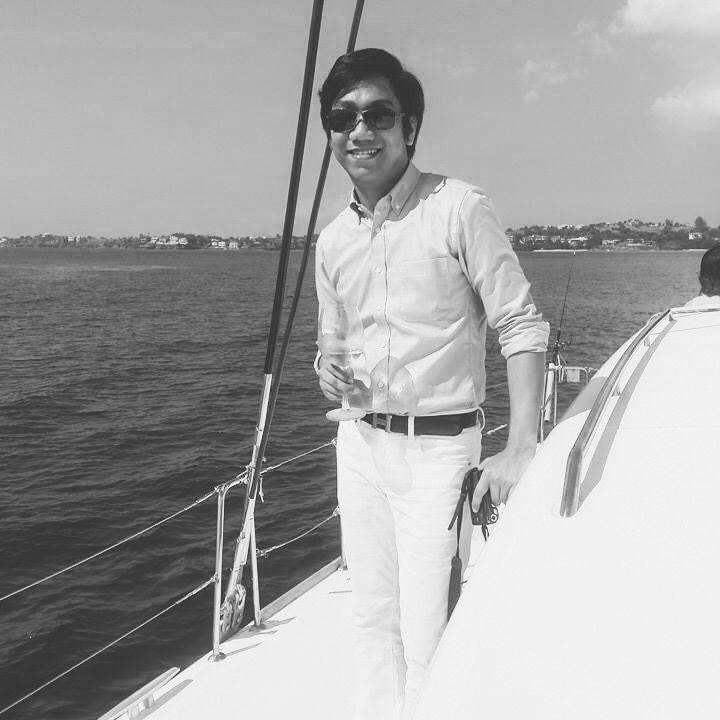 By Franz Sorilla IV
April 05, 2019
Atlantis Theatrical Entertainment Group re-stages Tony Kushner's critically-acclaimed play "Angels in America: Millennium Approaches"—shedding light on particular issues prevalent in its time and haunting even up to this day.
In celebration of its 20th anniversary season, Atlantis Theatrical Entertainment Group brought back on Philippine stage one of the finest contemporary stage plays ever written. American playwright Tony Kushner's Angels in America: Millennium Approaches debuted on Broadway two years after it premiered in San Francisco (1991) and won nine Tony awards including Best Play. The year after, it won again with its other half, Perestroika. This seven to eight-hours-long two-part stage play broke ground by defiantly tackling controversial issues at the time like homosexuality, divorce, discrimination, drug abuse, and depression, to name a few, with 1980s USA as its backdrop, revisiting Raegan's administration and the widespreading of AIDS. Befittingly, it received the 1993 Pulitzer Prize for Drama for its well-written exploration on the socio-political climate of the period. Complex and metaphorical, Angels in America was received with rave reviews and gave voice to the LGBTQIA+ community.
The 2019 Manila run of the play, directed by theatre veteran Bobby Garcia, added new flavour to the 1995 Manila premiere of the two-part play in full seven hours, which he directed as well. "His [Garcia] youthful bravery has now evolved into a wiser, deeper understanding of the material," Topper Fabregas, who played lead character Prior Walter, said on his notes on the award-winning director. "It is telling in the way he describes his connection to the text, the way he has fallen in love with all the characters. You hear it in his reverence for Kushner and this world he created."
Although its first part that is only being performed this year, audiences will still get to see how the play resolves next year. The 2019 run did not fail to deliver and indeed, the audience root for more that when the curtains closed nobody stood up until ten minutes later.
"I think the main difference between the first run and now is a whole perspective shift. I look at it now as people finding life in the face of death. This time around it's about how we still live even if our hearts are torn up into pieces," Garcia said to Fabregas. Compared to its 1995 run, Garcia gave Manila a "defiantly loud and rebellious" production of Angels in America, with the characters interpreted as people trying to escape death.
Set in 1980s New York, the play zooms in on the lives of two main couples: Prior Walter abandoned by his lover Louis Ironson, while a closeted gay lawyer Joe Pitt struggles in his marriage to his pill-popping wife, Harper. Their fates intertwine as they explore the questions of love, justice, identity, and change. The play let us remember 1980s—minus the disco and neon-coloured fashion—with Raegan's masculine administration, intimidatingly towering edifices like the Department of Justice building and the all-male jungle of Washington D.C., and conservative religious communities of Mormons and Jews, through video projections designed by Ga Fallarme and earth-toned industrial and antique stage sets designed by Faust Peneyra, complemented by distant New York noise designed by Glendfford Malimban. The hostility towards some ethnic and gender communities and the characters' profile backgrounds transported audiences back in time and in a microscopic vantage point of the era.
Nevertheless, the eerie musical scoring of Louise Ybañez-Javier, warm ambient lights and dream-like (sometimes nightmarish) light changes struck with precision by Jonjon Villareal, were like the stone and chisel that attempt to crack this rock-hard setting—an allegory to how the other main characters such as discreet gay lawyer Roy Cohn (based on real life Roy Cohn), Joe's mother Hannah Pitt, Prior's best friend and ex-lover Belize pushed forward the four main characters to defy the norms of the time and come out of their shells. However, nothing was grander and more haunting than The Angel's arrival at the final scene that cracked Prior's house ceiling wide open.
Fabregas' reading of the AIDS-stricken drag queen Prior Walter rendered a sincere, heart-wrenching delivery. His quick emotion switches were on cue and his subtexts and puns were hilarious and heartbreaking at the same time. What made him shine brighter on stage were his scenes with the rising theatre actor Nelsito Gomez, playing Louis Ironson, whose acting chops were also marvelous and seen with maturity compared to his past roles.
Markki Stroem delivered the married closeted gay lawyer character of Joe Pitt with such subtlety and refined machismo. Opposite him was Angeli Bayani playing Harper Pitt, whose disturbed psyche and soul speak loudly through silent stares and calculated beats. Art Acuña was terrific as Roy Cohn and Andoy Ranay's Belize was sharp and tacky, both were adorable and raised the roof with their thought-provoking satirical jabs.
But perhaps what captivated the audience the most, even with their quick moments onstage, were revered actresses Cherie Gil (Hannah Pitt) and Pinky Amador (The Angel). All the other cast members portray multiple roles, as with the tradition of Angels in America productions overseas, and Gil's and Amador's multiple characters were distinctive from each other and stellar beyond words. Gil opened the play as a Jewish rabbi, which she played convincingly and unrecognisable. On the other hand, Amador's flight as The Angel was jaw-dropping and hauntingly beautiful that left audiences with chills down their spine.
"Kushner's text is so grand, so poetic and can sometimes feel so far removed from the human experience," Fabregas said. "Bobby somehow brings it back down to earth, making it tangible until the words start to feel like second skin. Until you cannot imagine your character expressing him or herself in any other way. He finds a language that works for each individual actor, knowing exactly when to micromanage and when to step back. He understands that the material's bound to take you to places that aren't easy to get to, and he gives each of us the breathing space we need. How apt that he has gathered actors of various backgrounds, of different schools and somehow connected each one—human connection is the main thesis behind this production."
Despite tackling issues of its time, Angels in America: Millennium Approaches remain relevant today and even in the Philippines. The questions it poses are still what we ask today. Like Joe Pitt, we are searching for who we truly are and like Roy Cohn, we are obliged to follow the norms and hide our skins. Like Prior Walter we are resisting to "pave the way" for true social change, terrified of the future that awaits and linger on the past that broke us apart. The fear and excitement it evokes in its anticipation for the approach of the 21st Century, resonate in today's generation striving for social impact yet reluctant to make their voices heard.
Angels in America: Millennium Approaches is down to its last 5 shows. Catch it at the Carlos P. Romulo Auditorium, RCBC Plaza Makati. Tickets are available at www.ticketworld.com.ph