15 K Drama Actors To Follow On Instagram: Cha Eun-woo, Park Seo-joon, And More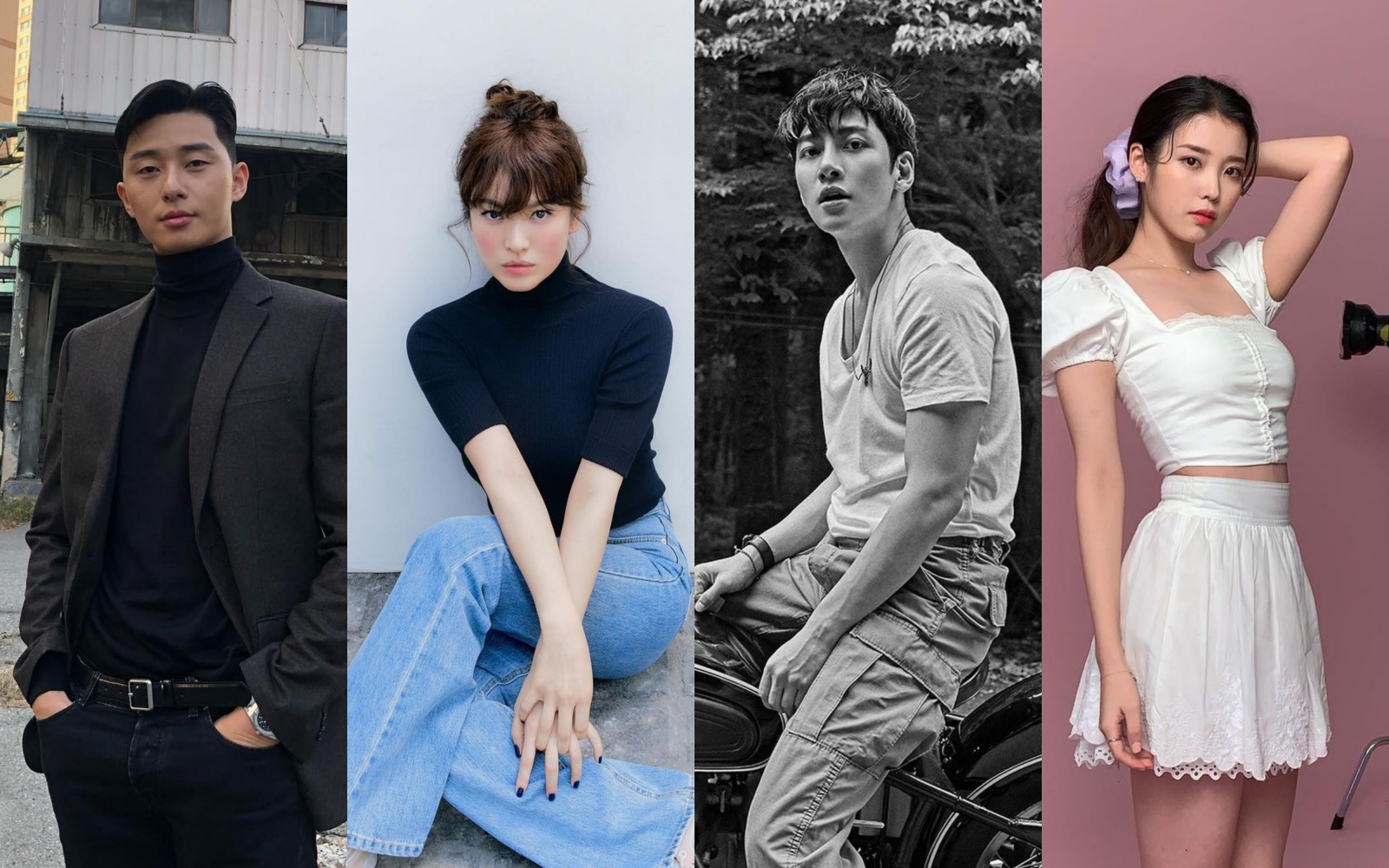 By Dorynna Untivero
March 10, 2021
Been on a K Drama binge lately? We round-up some of our favourite leads and their Instagram accounts so you can keep tabs on their latest projects and collabs!
If you're a fan of K Dramas, binge-watching might be on your regular weekend itinerary. Whether you prefer watching them per actor or genre, you may have searched your favourite leads on Instagram to get to know them more.
Since most Korean actors also use the Hangeul (Korean language) keyboard, their IG handles may not be so easy to find. Fret not as we list down some of our fave stars and their official accounts so you can click on that follow button asap!
1/15 Park Seo-joon
Known for his roles in What's Wrong With Secretary Kim?, Fight For My Way, Hwarang, and Itaewon Class, Park Seo-joon has been one of the most sought after leading men in Korean drama as of late. His 2017 action thriller Midnight Runners also won him the Grand Bell Award for Best New Actor.
Follow him on IG for some A+ selcas and snippets from his adventures with the Wooga squad which includes BTS V, Park Hyung-sik, Choi Woo-shik, and Peakboy.
2/15 Son Ye-jin
Best known for her recent role in the 2019 phenomenon Crash Landing On You, Son Ye-jin has been a household name in Korean TV since 2003 with other hit romance dramas like The Classic and A Moment to Remember.
Take a peek into the life of this A-lister, as she shares snaps from photoshoots, trips around the world, and of course, cute couple selfies with Hyun Bin!
Read More: Crash Landing On You Stars Hyun Bin and Son Ye Jin Reveal First Campaign As A Couple
3/15 Song Hye Kyo
A stunner if there ever was one! You may know her best from the 2016 blockbuster drama Descendants of the Sun where she starred opposite ex-hubby Song Joong-ki (Space Sweepers, Vincenzo) but she has long been a staple in Korean television since the hit drama Autumn in My Heart in 2000.
Look through it-girl Song Hye-kyo's IG account to get a glimpse of her latest brand partnerships and snaps from her travels. Landscapes, sunsets, and portraits abound—each photo definitely deserves a double tap!
4/15 Kim Soo-hyun
5/15 Lee Sung-kyung
Although she plays a quirky (and dorky) athlete in the hit show Weightlifting Fairy Kim Bok-joo, this actress began her career in show business as a model.
Double-tap on gorgeous high fashion shoots, candid snaps from the set of The Doctors, and several beauty close-ups. Looking through her feed will have you reaching for your fave Korean skincare and beauty items in no time!
See Also: How To Achieve That Dewy, Glass-Skinned Look Of K-Drama Stars
6/15 Nam Joo-hyuk
Speaking of Kim Bok-joo... don't forget to include Nam Joo-hyuk in your to-follow list! This actor starred opposite Lee Sung-kyung as the loveable and competitive swimmer, Jung Joon-hyung. He most recently graced the screen in Start Up where he played a genius encoder for a tech company.
On Instagram, he often posts pics of his adorable dogs, swoon-worthy selfies, and random snippets from his day-to-day life.
7/15 IU
Everyone's girl crush! This multi-hyphenate performer currently has 19.1M followers as of writing—and for good reason! From Hotel De Luna, My Mister, and Dream High, IU is no stranger to the world of television. Her drama performances have been truly captivating and are matched in equal (if not greater) measure by her discography. With various awards under her belt for both acting and singing, there are many reasons to fall in love with this talented star!
8/15 Cha Eun-woo
Many have fallen head over heels with Cha Eun-woo for his recent stint as Lee Su-ho in True Beauty. You may have also seen him in My ID is Gangnam Beauty and Rookie Historian: Goo Hae-ryung. He is also 1/6 of the successful K Pop group, Astro. This 23-year-old actor-singer often shares cute selcas and photos from his travels and latest adventures. Click that follow button to get a load of fun snaps and cute IG stories to boot!
9/15 Lee Dong-wook
Although many rave about Gong Yoo's portrayal of Goblin in The Guardian, we would be remiss if we didn't include Lee Dong-wook in this list! Having played the Grim Reaper opposite Gong Yoo, this actor stole the show with his incredible performance. He also stars in several dramas including Touch Your Heart, Tale of the Nine Tailed, and Hell is Other People.
Click that follow button to get the latest info on his new projects and brand partnerships. He also shares snippets from his appearances on reality shows and vlogs.
Read More: 10 Best Korean Drama Homes
10/15 Suzy Bae
Just like IU, Suzy is also a double-threat. Previously part of the girl group Miss A, you'll find her sharing numerous song covers on her IG. Be mesmerised with Suzy's angel-like vocals and visuals to match!
She rose to fame with stellar dramas like While You Were Sleeping, Vagabond, and more recently, Start Up. She is also one of the most sought after endorsers in Korea, so you'll find stunning photoshoots on her feed including gorgeous (barefaced) selfies—talk about glass skin!
Read More: 7 Romantic K-Drama Shows On Netflix To Binge-Watch: CLOY, Start-Up, And More
11/15 Kim Ji-won
From Fight For My Way, Descendants of the Sun, Arthdal Chronicles, and recently Lovestruck in the City, Kim Ji-won has become one of Korea's most popular leading ladies with diverse performances in her dramas.
Although she's become quite known for portraying spunky female characters, fans can get to know her even more on IG where she shares highlights from the set of her most recent series and shots with her friends and family.
12/15 Park Hyung-sik
This 29-year-old leading man just completed his mandatory military service early this year. Having played a headstrong young emperor in Hwarang and an upbeat CEO in Strong Girl Bong-soon, Park Hyung-sik has wooed the hearts of many. He has yet to return to television (hopefully for another strong lead role), so many have been keeping tabs on his IG for any updates.
Browse through his account for candid snaps with the Wooga squad—you'll find him boasting about his friends often! Make sure to like his BFF posts for BTS V, Peakboy, and Park Seo-joon.
13/15 Ji Chang-wook
Talk about heartthrob... Ji Chang-wook will make you swoon with his numerous portraits and selfies on Instagram! He starred opposite Kim Ji-won in Lovestruck in the City where he plays a hopeless romantic but many remember him for his unforgettable role in the action drama Healer. You'll also catch him in The K2, Empress Ki (hello long-haired Wookie), and Suspicious Partner, among many others.
On IG, you'll see him sharing his love for motorcycles, goofing around, and scenic places.
14/15 Park Min Young
This 34-year-old actress is so beautiful, browsing through her account will remind you to double-up on your skincare! Barely looking a day over 24, Park Min-young has bagged many iconic roles in Korean television. You may know her as the wily Kim-biseo in What's Wrong With Secretary Kim? and an eccentric art curator in Her Private Life.
Nowadays, she's taken up vlogging—check out her account for a look into what a day in a leading lady's life is like!
See Also: 13 Korean Netflix Shows To Watch This 2021: The Silent Sea, Squid Game, And More
15/15 Lee Min-ho
The Heirs, Legend of the Blue Sea, The King: Eternal Monarch... Lee Min-ho's list of dramas goes on and on. Having shot to fame in 2009 for top-billing the hit Boys Over Flowers, he has since become one of Korea's most popular actors, banking projects and endorsements left and right.
Although he plays larger-than-life characters on TV, his IG feed is much more relaxed. Sharing spontaneous pics, food shots, and even blurry photos—Lee Min-ho's account gives his fans a glimpse into his surprisingly laidback lifestyle.